Malaysia has sent a team to the French Indian Ocean island of Reunion to determine whether debris which washed up there is from missing flight MH370.
The Malaysia Airlines Boeing 777 travelling from Kuala Lumpur to Beijing with 239 people on board vanished without trace in March 2014.
Aviation experts have said the debris looks like a wing component from a 777, known as a flaperon.
Malaysia Airlines said it would be "premature" to speculate on its origin.
There were 227 passengers on the flight, including 153 Chinese and 38 Malaysians.
"Whatever wreckage found needs to be further verified before we can further confirm whether it belongs to MH370," Transport Minister Liow Tiong Lai told reporters in New York where he was attending a UN Security Council debate for a separate Malaysian jet shot down over Ukraine.
"So we have dispatched a team to investigate on this issues and we hope that we can identify it as soon as possible," he said.
The wife of the in-flight supervisor for the missing MH370 plane, Jacquita Gonzales, told the BBC that she is torn by the news.
"A part of me hopes that it is (MH370) so that I could have some closure and bury my husband properly but the other part of me says 'no, no, no' because there is still hope," she told the BBC by phone.
The two-metre-long (6ft) piece of wreckage washed up on the island, about 600km (370 miles) east of Madagascar, late on Wednesday.
The search efforts for MH370, led by Australia, are focussed on a broad expanse of the southern Indian Ocean – some 6,000km to the east of Reunion, which is a French region.
There have been other plane crashes much closer to Reunion, but flight MH370 is the only Boeing 777 to have disappeared in the area.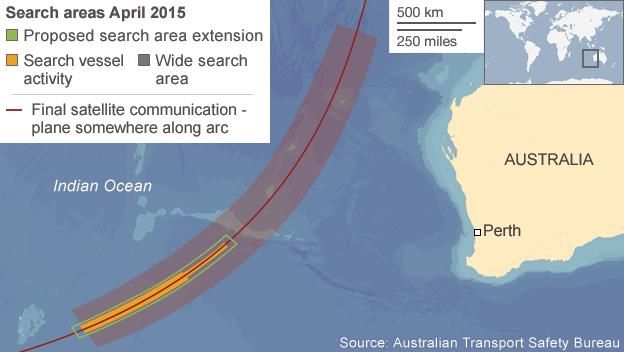 An US official told the Associated Press news agency that, based on the photos, investigators had a "high degree of confidence" that the part was a flaperon unique to a Boeing 777 wing.
A flaperon is a part of the wing used to manage the lift and control the roll of an aircraft.
French authorities in Reunion are also investigating the debris and Australian investigators are reported to be in touch with manufacturers over the find.
In a statement, Australian Infrastructure Minister Warren Truss said that if the wreckage was identified as being from MH370, this "would be consistent with other analysis and modelling that the resting place of the aircraft is in the southern Indian Ocean".
Any new evidence will be used to refine search efforts, the statement added.

Analysis: BBC's transport correspondent Richard Westcott
Experts should be able to tell fairly quickly if this is a piece of MH370. Aircraft parts have individual serial numbers on them, and the airlines should have records of all those numbers.
So in theory, investigators could check them and give a positive or negative ID. If it is part of the aircraft, it's washed up thousands of miles from where search teams continue to look for debris at the bottom of the sea.
And realistically, although it would confirm the aircraft crashed and broke up, a piece of wing is unlikely to reveal much more about what actually happened on board the plane.
But these are all big "ifs" right now. It could still be yet another false alarm.
Follow Richard: @BBCwestcott
The tenacious deep-sea hunt for MH370

The Australian-led search teams have been focusing on a 60,000 sq km (23,000 sq mile) area off the coast of Western Australia, where the plane is believed to have crashed.
Australian Transport Safety Bureau Chief Commissioner Martin Dolan, who heads the operation, told AP that even if the part was proven to be from MH370 it would not change the search area, as it was "entirely possible that something could have drifted from our current search area to that island".
Confirmation the debris came from MH370 would also disprove theories that the airliner went missing somewhere in the northern hemisphere, Mr Dolan said.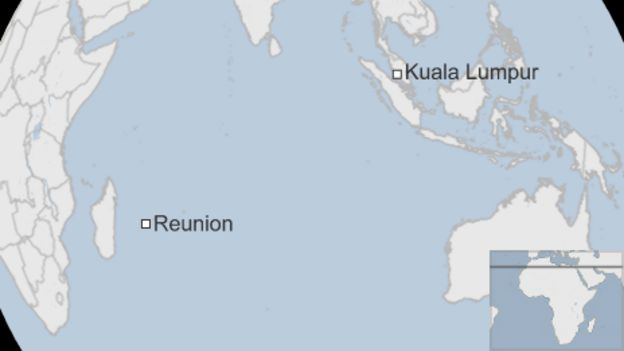 Key moments in the search for MH370
8 March, 2014: Malaysia Airlines Flight MH370 departed from Kuala Lumpur International Airport on Saturday 8 March (16:41 GMT, 7 March), and was due to arrive in Beijing at 06:30 (22:30 GMT). Malaysia Airlines says the plane lost contact less than an hour after takeoff. No distress signal or message was sent.
20 March: Australian search teams say they are investigating two objects spotted on satellite images in the southern Indian Ocean and sent long-range surveillance planes to the area. The objects were later revealed not to be from MH370.
24 March: The Malaysian prime minister announces that following further analysis of satellite data it was beyond doubt that the plane had gone down in this part of the ocean.
28 March: The main search area was moved 1,100km (684 miles) to the north-east and closer to Australia, following further analysis of the speed of the plane and its maximum range.
5-8 April, Australian and Chinese vessels using underwater listening equipment detected ultrasonic signals, which officials believed could be from the plane's "black box" flight recorders. The pings appeared to be the most promising lead so far, and were used to define the area of a sea-floor search.
29 May: Australian officials announced that the search had found nothing and the area where the signals were heard could be ruled out as the final resting place of the plane.
26 June: Officials announced a new 60,000 sq km search area some 1,800 km west of Perth. This phase of the operation started in August with detailed mapping of the sea bed.
16 April, 2015: Officials from Australia, Malaysia and China say the search area would be doubled if nothing is found in the current search zone.
Source: www.bbc.com