We, the immediate family of Benjamin Lim Jun Hui are writing this letter to members of the public to seek financial donation to support legal action against Ministry of Education and the Singapore Police Force.
Benjamin passed away on 26 January 2016, the same day he was taken to Ang Mo Kio Police Division from North View Secondary School (unaccompanied by any adult from his family or school ) during school hours for questioning in relation to an alleged offence.
He was brought back home on the same day by his mother and Sister after spending more than three hours in the police station where he underwent interrogation, and jumped from height to his death after a call was made by the School Counselor to his Mother later that afternoon.
The family has been advised that the case raises many troubling issues regarding the duty of care expected of our schools towards school children and also the care owed by our police force to members of the public. We therefore appeal to concerned citizens to help us in our cause.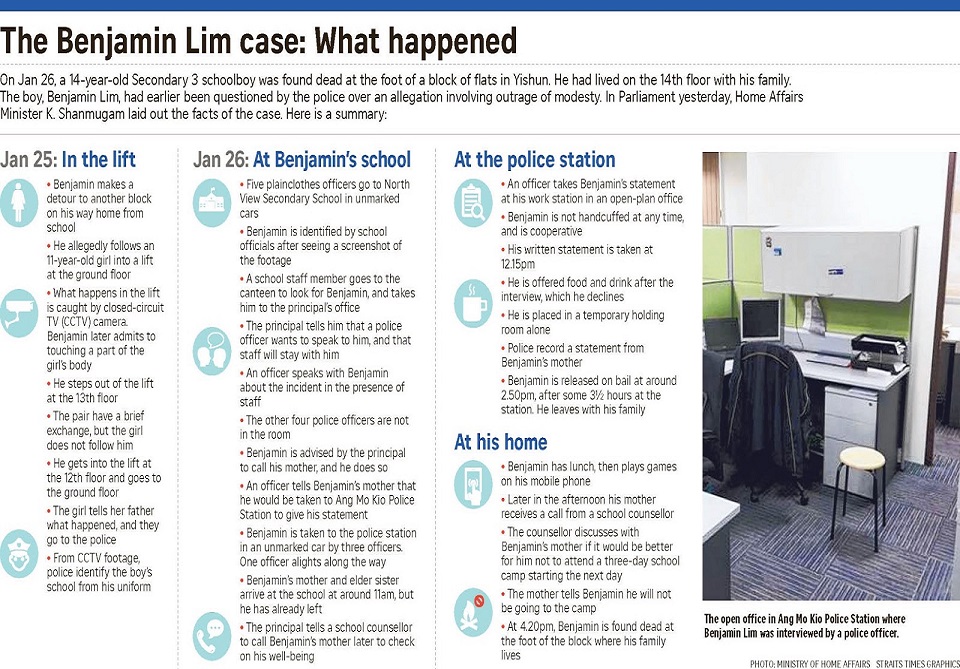 The family of Benjamin wishes to seek justice for him. The family has engaged a lawyer and raised about S$15K to fight the case. However, legal action of this nature is financially very challenging and will cost a lot more than $15K.
We therefore appeal to concerned members of the public for support to fund the legal challenge, which may run to hundreds of thousands of dollars.
For anyone who wish to contribute directly via bank account, you may transfer any amount to POSB saving account (bank account hidden). This account was recently set up by the family to gather funds for the purpose above stated.
We thank you for your support and do feel free to write to us at (email hidden) if you have any questions or if you need further clarification.
***
Editor's note: Those who would like to contribute, may do so at: https://give.asia/story/legal_suit_against_moe_and_spf_for_death_of_benjamin_lim
Rilek1Corner