Singapore began its defense of the ASEAN Football Championship or Suzuki Cup with a 1-2 loss to Thailand at the National Stadium yesterday. While I'll leave others to comment on the performance, I'll instead comment on the facility itself. You can read the match report here:
To begin with, the pitch is hardly in ideal condition for what is the region's biggest tournament and probably the only one where Singapore can take part in and hope to win silverware. While it's not uncommon for new stadiums to have a 'not so perfect pitch' – even
Wembley
Stadium faced the problem initially, the fact remains that few international stadiums would have a brand new stadium with patches of sand and general unevenness.
The new National Stadium is fast becoming an arena for foreign teams, other sports and concerts, and not for local athletes and football.  
And with 2 other group games and 2 more final fixtures, the pitch is not going to get any better. It's a travesty that so much has been spent only for it to be wasted. This pitch is a goner, the only way will be to tear it up after the competition is over and re-lay a new set of grass, which would have to grown elsewhere. I do hope that this is already in the pipeline.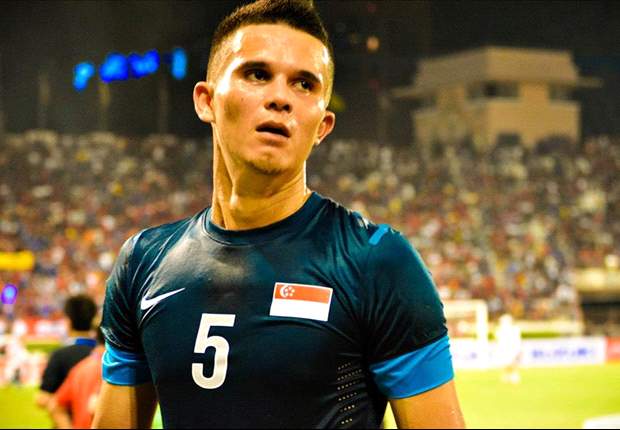 Baihaikki

Khazan

lamented the effects of a soulless new National Stadium, a view shared by many.
But this is not the biggest issue. A few weeks after its opening, national player 
Baihaikki
Khaizan
remarked in this 
Instagram
post
, that while the new stadium is fantastic with 'its bells and whistles', it lacks the soul of its predecessor. There's no
Kallang
Roar to be had and this was turning out to be a stadium for 'concerts.'
Singapore played Thailand yesterday in a stadium marked with a large swathe of empty seats.
And judging from yesterday's crowd, the stadium was barely half-full, there appears a ring of truth in his assessment. So yes
Juventus
played here, and so did a
Neymar
led Brazil against a Honda led Japan, but in both games it was priced out of the reach of most ordinary
Singaporeans
. Yes, there were some cheaper tickets, but still expensive compared to prices in the past and elsewhere. The majority of tickets and the better seats in the middle, were not cheap.
Snaking queues for tickets outside the old National Stadium. You won't see this sight in a hurry at the new stadium, if prices are

gonna

remain exorbitant.
Is this a stadium for the rich and upper middle-class? What is the Singapore Sports Council, the 
FAS
and the stadium's operator trying to do? Get their money back as soon as possible or make a handsome profit? The Suzuki Cup is the region's premier tournament and Singapore are the defending champions. In past tournaments, the stadium would be filled to the brim, even with live telecast of games. Just take a look at yesterday's game, tickets were going at $48, $38, $28 and $18. You expect ordinary
Singaporeans
to fork out a minimum of $18 to watch a football game? Is money growing on trees or readily available on our pavements?
We grudgingly accept that

F1

and major tournaments like the

WTA

Finals featuring the world's best will have expensive price tags and ticket prices, but not for football featuring Singapore. It should not always be about profit and recovering costs. Some events can and should cost the state money. Are we living in Singapore or Bangladesh? Can't the 

Govt

underwrite part of the costs, or the respective bodies not price tickets too highly and get a rebate from the

Govt

?
Most
Singaporeans
can only dream of watching
F1
races, even though its held in Singapore. But okay we can excuse that,
F1
has always been expensive and is a sport usually associated with the rich. But football? Our national sport? Even the
friendlies
before the tournament at
Yishun
Stadium cost $12. An ordinary uninspiring stadium like
Yishun
and you charge $12? A former national player I spoke to was shocked at the price. This is a rip-off, just as yesterday's prices were.
Borussia

Dortmund's iconic

Westfalen

Stadion

is always full for

Bundesliga

, Champions League and Germany internationals. And their cheapest tickets cost less than the $18 for the Suzuki Cup. And Germany like Singapore is a rich country.
Even the
Bundesliga
charges lower for their games. You can watch
Bayern
Munchen
and 
Borussia
Dortmund at around 5 Euros (standing). For the equivalent of S$18, you can be assured of a seat, and that's top class football. What's the
SSC
and
FAS
trying to prove?
Unless the operator is sacked and replaced by a local who understands the passion and means of ordinary
Singaporeans
, then the National Stadium will continue to be a rip-off and a soulless stadium for the rich, for concerts and for foreign teams to come play for a fee. It cannot be considered a National Stadium for
Singaporeans
.
* Post was first produced by http://anyhowhantam.blogspot.com.au
Source: www.allsingaporestuff.com